September-December 2007
"We hang the petty thieves and appoint the great ones to public office.": Aesop - (c. 550 B.C.)
Editor: Rima Kashyap Also: CONNECTiNG- the Editorial
Top Stories: -
No Sex Please- We're Indian! A parliamentary committee is left to decide whether or not sex education will be taught in schools. Students, teachers and parents in Delhi, Mumbai, Bangalore and Chandigarh – were asked what they really want!.
World Bank in the dock: The four day Independent Peoples Tribunal (IPT) on the World Bank in India held in September heard numerous depositions indicting the Bank's policy and project interventions in India. Over six hundred people from communities, social movements, research institutes, NGOs and universities attended the proceedings held at JNU.
A People's Manifesto: In what is being claimed as a first of its kind initiative by activists in Gujarat, the Vikas parishad has released a 'Peoples Manifesto' which they claim highlights the concerns of citizens from all strata of the society.
Ratings don't score: An evaluation done by ORG Marg to evaluate and grade (A, B, & C) all community based care and support centers in India. Many of the leading (if not all) organizations providing quality care and support for PLHAs over the years, being funded by the respective SACS have mysteriously been graded.
Learning disability tests in Indian languages: Two Mumbai-based teachers from SNDT University's Centre for Special Education-professor Dharmishta Mehta and lecturer Apoorva Panshikar, have designed tests to detect Learning Disability in Hindi, Marathi and Gujarati.
People's Action:Citizens of a village invoke an old law to arrest a bootlegger with Lok Satta's help.
Corporate ART Centre in Orissa: The first corporate anti-retro viral therapy (ART) centre in the State will come up at Koraput. Two more are likely to be operational at SCB Medical, Cuttack and VSS Medical at Burla by the end of this year through the Confederation of Indian Industry (CII).
Media: The latest in the world of films and books in the development sector.

CONNECTiNG
I quote from a letter from a filmmaker in Bhubaneshwar as this is a topic that requires event managers to be sensitive and alert.
"I would like to bring to everyone's urgent attention a disturbing trend emerging in Bhubaneswar amongst the film fraternity & media persons. Over the last few years more and more film festivals are being sponsored by corporations facing charges of gross human rights violations & environmental damage. The best example being Vedanta Alumina Ltd., a company that has been internationally hounded for its activities in Orissa. Vedanta sponsored Bring Your Film Festival in Puri two years back and now it has sponsored the Bhubaneswar Film Festival '07.
The timing of these festivals sponsored by Vedanta is always when the company is going through a tough time. The Bhubaneswar Film Festival '07 kicks off a week after the company was denied permission to carry out bauxite mining in the pristine primary forested Niyamgiri Hills by the Supreme Court of India on many grounds; a week after the State Pollution Control Board issued a notice to the company for affecting more than 25,000 villagers in 10 villages by the air and water pollution caused by its illegal factory in Lanjigarh and three weeks after the Govt of Norway withdrew its investments in the company for its malpractices in Orissa.
The people's movement against Vedanta has been raging for five years now. Many innocent civilians have been beaten up by goons, and arrested under false charges. Vedanta's factory was built in the most dubious manner and many villages were forcefully displaced with ample support by district administration. Their villages were bulldozed while the police held them captive. Their cattle was shooed away and they have been put in a virtual prison -which the company has termed Rehabilitation Colony. One local person was allegedly killed by the goons of the company for resisting displacement and protesting strongly against the atrocities of the company. Around the factory there are many stories of deaths that have been hushed up.
A headline in the front page of The Times of India asked: "Whats good for Orissa, bad for Norway?" The same question can be put to the organisers of the Bhubaneswar Film Festival who choose to ignore the mis-happenings in other parts of the state caused by their patron company Vedanta. Just google keywords like Vedanta, Niyamgiri, & Lanjigarh and one finds hundreds of webpages with adequate information on how the company has violated almost every law of the land in order to get its way ahead.
One doubts if the organisers are ignorant partners in this event. Nonetheless, their disrespect towards other citizens of the state who are suffering due to the company's activities, cannot be more overt than the mammoth billboards plastered all over Bhubaneswar, advertising the film festival and Vedanta's name. These bilboards might create some goodwill amongst lovers of cinema and distract them from the real nature of the sponsors which is most certainly a planned strategy. Unfortunately these kind of festivals which are supposedly for the cause of meaningful & good cinema will cause more damage to society than the very meaningless & commercial cinema with whom they are fighting for space.
In Orissa erring companies like Vedanta and Tata need all the goodwill they can and are more than happy to pay these people organizers. Being a volunteer in some festivals in the past I am aware of how budgets are proposed to potential sponsors who are mostly companies with overactive PR wings (meaning they require more damage control).
Inscreen Film Society of which I was once a part is also planning on a film festival next month in Bhubaneswar and it will not be a surprise if names like Vedanta or Tata pop up again as with BYOFF in Puri. Ironically BYOFF was born to liberate and democratise film festivals but has only proved to be facade for 'consent manufacturing'. Now Bhubaneswar Film Society is doing it with the Bhubaneswar Film Festival '07 from today without any regard for thousands of people in Orissa who might be displaced if Vedanta Alumina has its way. This film festival cannot be treated as a film festival, rather an advertising vehicle by Vedanta. I would call it a Trojan horse and would like to sincerely appeal to everyone to boycott such film festivals.
Surya Shankar Dash, filmmaker, Bhubaneswar
---
Indians want sex education
While politicians are still debating on whether or not children should receive sex education, the mandate is clear as far as people, to whom the issue really matters, are concerned. TIMES NOW conducted a poll end-October to find out how the issue is perceived across India.
According to the survey, it's an issue that has divided public opinion right down the middle and now a parliamentary committee is left to decide whether or not sex education will be taught in schools. Students, teachers and parents in Delhi, Mumbai, Bangalore and Chandigarh – were asked what they really want!
The results showed that while politicians are still squeamish about the sex education debate, almost all teachers, students and parents are unanimous in their decision for imparting sex education in schools.
When probed, one of the parents spoke in favour of sex education and said: "Schools will do a better job of it because there could be a sense of embarassment which could creep up between the parent and their children."I think children are more aware of sex than we think because times have changed."
Out of the places surveyed, Bangalore presented a slightly different picture. While 97% teachers and 77% of the parents spoke in favour of sex education, its the students who are slightly divided on the issue -- 56% of the respondents spoke in favour of the issue, while 44% of them were against the sex education.
Moreover, in comparison, students in Chandigarh are far more open about sex education -- 83% of the students spoke in favour of it, while their parents, who are slightly more conservative do not want sex education to be imparted to their children in school. Around 36% of the parents were totally averse to the idea.
More than half of the respondents said that the appropriate age to impart sex education is between 15 to 18 years. However, teachers felt that the earlier the better. "In case of ignorance, students will try to experiment or try to find out things on their own, which could perhaps be riskier than providing them education," said a teacher.
And while it has been left to a parliamentary committee to take the final call, most teachers, parents and students are against leaving it to politicians to decide whether or not sex education should be taught in school. The crux of the poll clearly surmises that teachers, students and their parents are unanimous in their view that sex education in the curriculum will go a long way in helping reduce sexual abuse and teenage pregnancies.

Top
World Bank Officials Refuse to be Held Accountable
'Tribunal charges W Bank with serious violations of democracy, human rights and sovereignty'.
New Delhi: The four day Independent Peoples Tribunal (IPT) on the World Bank in India held in September heard numerous depositions indicting the Bank's policy and project interventions in India. Over six hundred people from communities, social movements, research institutes, NGOs and universities attended the proceedings held at JNU.

The IPT invited the World Bank and while they did agree to make a presentation responding to some of the evidence, they failed to show up They stated on their website that they had taken this decision because they are not accountable to the Tribunal process. We must record our shock at their blatant disregard of any need to be accountable to civil society and to a Jury comprising retired justices of the Supreme and High Courts as well as leading writers, academics, religious leaders and activists.

In its preliminary findings, the IPT observed the Bank had an undue and disturbingly negative influence in shaping India's national policies disproportionate to its contribution, financial or otherwise.

While India is the world's largest single cumulative recipient of World Bank assistance, with lending totaling about $60 billion (Rs. 2,40,000 crores) since 1944, current annual borrowing amounts to less than 1% of the country's GDP. The loans, however, have been used as leverage to bring about important policy changes and impose conditions in areas such as governance reform, health, education, electricity, water and environment- many of these with obvious political and social consequences. The loans also legitimize substantial additional funding from a diversity of bilateral and multilateral donors such as the Asian Development Bank and Department for International Development (DFID-UK). The Bank's loans have caused extensive social and environmental harm from mass displacement in the Narmada valley to loss of livelihoods of traditional fishworkers in places such as Barwani.
It was noted that such overbearing influence on India's policy making was in violation of the World Bank's own Rules of Association, which mandate it to be an apolitical institution that should not interfere in political processes of any member country. Further, the IPT depositions stated that the presence of former Bank officials in senior government positions was unacceptable and involved conflicts of interest.
Vice Chairman of the Kerala State Planning Board Professor Prabhat Patnaik in his deposition cited the example of the Jawaharlal Nehru National Urban Renewal Mission (NURM), which is a World Bank designed project. In the Kerala NURM project, the state government, he said, was being forced to accept a condition to reduce stamp duties to 5% from the earlier 15-17%. To avail a loan of about Rs. 1000 crores, Kerala would lose up to Rs.7000 crores of government revenue.

Vinay Baindur of the Bangalore based Collaborative for the Advancement of Studies in Urbanism (CASUMM) showed evidence of how the Karnataka Economic Restructuring Loan (KERL) resulted in the conversion of a state government and its economy into a corporatised entity meant to generate funds for "private sector and enterprise development" The $250 million loan resulted in far reaching changes; the closure/privatisation of the public sector; the restructuring process led to a steep rise in farmer suicides; many of those who committed suicide did so because they were unable to pay the arrears in power costs that were suddenly slapped on them on account of power tariff hikes.

Jury member and scientist Meher Engineer said that he found the depositions on how the Bank forced inappropriate technology on India such as incinerators especially damning. 'The Bank is pro-rich, pro-urban and anti-environment', he concluded.

The IPT was organized by an inclusive platform consisting of over 60 national and local groups (see list below). Activists, academicians, policy analysts and project affected communities presented evidence against the World Bank in over 26 sectors from 21-24 September. Jury members included historian Romila Thapar, writer Arundhati Roy, activist Aruna Roy, former Supreme Court Justice P B Sawant, former Finance Secretary S P Shukla, former Water Secretary Ramaswamy Iyer, scientist Meher Engineer, economist Amit Bhaduri, Thai spiritual leader Sulak Sivaraksa and Mexican economist Alejandro Nadal amongst others.

In response to the depositions the Bank posted a Q&A document on its India home page. Where it claims that, "The World Bank definitely has not recommended the privatization of water supply services in India". In a sign of convergence with the Bank, the Government of India also failed to send even a single representative to the event,

Preliminary Findings by the Jury
After four days of testimony and depositions from affected people, experts and academics from some 60 grass roots, civil society groups and communities from all over India covering 26 different sectors of economic and social development, ranging in scope from the macro-economic impact of wide ranging economic policies to testimony from representatives of communities said to have been harmed and impoverished by specific World Bank financed projects. The evidence and depositions present a disturbing and shocking picture of increased and needless human suffering since 1991 among hundreds of millions of India's poorest and most disadvantaged in rural areas and in the cities.

It is clear to us that a significant number of Indian government policies and projects financed and influenced by the World Bank have contributed directly and/or indirectly to this increased impoverishment and suffering. All this has taken place while a minority of India's population that constitutes the middle class and rich has enjoyed the fruits of an economic boom.

The most disturbing leading indicator for this suffering is the alarming increase in farmer suicides since the 1990s. From 2001 to 2007 alone, according to the Indian Minister of Agriculture, 137,000 poor farmers have killed themselves. These deaths are not random events; the evidence we heard points to increasing financial pressures on farmers all over India as a result of some or all of the following policies, such as: reduced subsidies from the Center and states, higher prices for poor farmers for irrigation water, electric power, and seeds; reduced subsidies for agricultural inputs, reduced access to low interest loans for the poor, and opening up of the Indian economy to an uneven playing field in international trade in agricultural commodities. It is clear to us that major World Bank Economic Restructuring, Structural Adjustment, and Sector Loans have directly promoted and helped to finance these economic policy changes which are a disaster for much of India's more than 700 million rural inhabitants, and most disastrous of all for poor farmers.

The net effect of many Bank prescribed policy "reforms" appears to be the reorientation of the Indian State priorities from striving to secure a safety net for the poor and vulnerable to providing a safety net for large domestic and international corporations and investors.

What emerges is a picture of an institution whose influence on the economic and social policies of the Indian government is much greater than the amount of its lending might indicate.

India and the international community must join to hold the World Bank accountable for policies and projects that in practice directly contradict its mandate of alleviating poverty for the poorest.

contact the IPT secretariat at secretariat@worldbanktribunal.org and +09820039557 www.worldbanktribunal.org.

Top
Relief work for affected communities in Nandigram
Nandigram has been in the centre-stage of barbaric violence, gross human rights violations interspersed with state-sponsored political suppression in West Bengal, India for nearly a year now. CPI (M), the ruling party in West Bengal, has come under severe criticism globally.
Normal lives of 10,000 – 12,000 families in Nandigram have been adversely affected, being displaced from their dwellings, livelihoods being jeopardised, and remaining scattered mostly staying with their relatives.

The CPM cadres have forcibly closed down all other relief camps. The only relief camp running with about 1500 people is at Brij Mohan Tiwari Shiksha Niketan in Nandigram.

`Dharna Manch' has been set up in Dharamtalla, Kolkata, from where relief work is being coordinated.Every day relief trucks leave from here with clothes, food grains,tarpaulin sheets, baby food and other items accompanied by some volunteers.--- NAPM, Asha Parivar, AID Contact:Debjit Dutta 9433624241 and Sudipto 9433972662
Donations should be sent in the name of 'Nandigram Support Fund' to A/c No. 15210153262 of Canara Bank, Bowbazar Branch, Kolkata.

Top
Activists present 'People's Manifesto' to political parties
Ahmedabad : In what is being claimed as a first of its kind initiative by activists in Gujarat, the Vikas parishad has released a 'Peoples Manifesto' which they claim highlights the concerns of citizens from all strata of the society.
Besides the issues of law and order, employment, women's issues, tribal rights and minorities, they have brought to the fore some pertinent issues often neglected. The non-availability of the promised Narmada water to farmers in the absence of the requisite canals, absence of availability of institutes of higher education and realizing the significance and potential of the state's 1,650 km long coastline have been highlighted. Activists Digant Oza, Gautam Thakar, and Vidyut Joshi, said one of the major issues of the state is Narmada. "The height of the dam may have been increased after much hype to 121mt and further to 138 mtrs too but Narmada water has yet to reach the farmland in 3,400 villages. This requires the government to construct a canal of 56,000 km, but the construction of these canals has not gone beyond Vadodara," they said.
The Manifesto was prepared after meeting 4,000 persons in seven conferences across the State. The 20 point manifesto is intended to be reached to all political parties with request to accommodate in there respective manifesto and their views would be taken on issues raised in it, they said.
Human rights activist J.S. Bandukwala, who was felicitated here along with Dr. Ram Puniyani for getting the Indira Gandhi Award for National Integration at a well attended function held under P.U.C.L. Both felt that if civil society had started these exercise before 50-60 years then things would have been different today.------Ilaben Pathak of Ahmedabad Women's Action Group, Dr. Sudarshan Iyangar vice chancellor of Gujarat Vidyapeeth were other speakers on the occasion.

Top
Ratings grate
The states inform us that there has been an evaluation done by ORG Marg to evaluate and grade (A, B, & C) all community based care and support centers in India.
Many of the leading (if not all) organizations providing quality care and support for PLHAs over the years, being funded by the respective SACS have mysteriously been graded in the so-called B category and relatively new and rather small care and support interventions have been categorized as A; a few have been categorized as C and have been disqualified without any intimation.

The letter states that all organisations in the 'A' category will receive ongoing funding as per the revised NACP 3 guidelines. Organisations listed as 'B' would basically have to apply and compete as and when advertisements are released for new care and support units in the uncovered districts. Organisations listed as 'C' grade have been left out from the over all scheme of things.

It has been brought to our notice that the above was the result of a so- called evaluation process supposedly conducted by ORG Marg of all low cost community based care and support centers in India. While we all appreciate a transparent process of evaluation and grading with clear terms of reference, the reports that we have received from the Managers and coordinators of the various care and support units of Freedom Foundation supported till late by the respective SACS, clearly state that there have been gross violations of the so called evaluation.

We have also had the privilege of hearing similar concerns from many of the other NGOs and Institutional heads in the country whose organizations are listed as A, B, & C in the rather infamous list.
---Dr.Ashok Rau
Executive Trustee/CEO
Freedom Foundation-India, Nigeria, and Botswana
(Centers of Excellence- Substance Abuse & HIV/AIDS)
email:freedom@bgl. vsnl.net. in, <ashokrau@hotmail.com>

Top
Learning disability tests in Indian languages
Mumbai: In a new milestone for the Learning Disability (LD) movement in India, two Mumbai-based teachers from SNDT University's Centre for Special Education-professor Dharmishta Mehta and lecturer Apoorva Panshikar, have designed tests to detect Learning Disability in Hindi, Marathi and Gujarati in a project funded by the National Association of Adoptive Familie..
LD is not indicative of low intelligence, but refers to a group of disorders that affect academic and functional skills, like the ability to speak, listen, read, write, spell, reason and organise information. Some of the disorders are dyslexia, dyscalculia and dysgraphia. The tests were standardised with the help of 1,123 Class IV and V students from municipal and private schools across Mumbai. The tests include auditory as well as visual components.
Workshops are conducted on four consecutive Saturdays, starting September 29, for those who have done an MEd/BEd in special education or an MA in counselling psychology.

Top
People's Action
Lok Satta makes history by effecting citizen arrest
For the first time in independent India's history, the Lok Satta Party has invoked Section 43 of the Criminal Procedure Code and effected the arrest of a belt shop operator at Satukupadu village in Jarugumilli mandal of Prakasam district in Andhra Pradesh. Illegal sale uncertified liquor is a serious crime under various laws. Section 43 enables citizens to arrest persons committing non-bailable and cognizable offences and hand them over to local police or the magistrate.
The Mahila Satta, after a 45-day state-wide campaign against belt shops, had warned the Government that it would resort to direct action if the Government did not shut down the shops by October 2. The Lok Satta Party, which as a matter of philosophy does not believe in `rasta rokos' and `bandhs' as forms of protest since they inconvenience the public, decided to invoke the Criminal Procedure Code section dealing with citizen arrests.
In a statement, Mrs. D. Lakshmi, State Mahila Satta convener, said that local women led by Dr. Radha Devi, district Mahila Satta coordinator and Mr. C. Venkata Reddy, district Lok Satta Secretary, seized 67 liquor bottles from belt shop operator Nadagatla Gopi, conducted a `panchanama' and arrested him.

According to the Lok Satta, there are more than one lakh unauthorized liquor outlets playing havoc with people in the rural areas of Andhra Pradesh. In response to a representation from the Mahila Satta on October 5, Chief Minister Dr. Y. S. Rajasekhara Reddy conceded the existence of belt shops and advised the leaders to mobilize local women and get the shops closed since the Government alone could not do it. He had already instructed police and excise officials to cooperate with the women in their mission, he added.

Top
Corporate ART Centre in Orissa
The first corporate anti-retro viral therapy (ART) centre in the State will come up at Koraput. Two more are likely to be operational at SCB Medical, Cuttack and VSS Medical at Burla by the end of this year. Confederation of Indian Industry (CII) will facilitate setting up of the first ART centre by corporates in the State, Consultant Health and Programme Manager, CII Dr Rammnik Ahuja said.
CII has entered into a unique agreement with National AIDS Control Organisation (NACO) for setting up more ART centres which would be supported by the corporate houses. As of now, two CII-facilitated centres are running in the country and in the next three years, 10 more would come up, Ahuja said.
As per the MOU, NACO will provide the rapid test kits and drugs to patients who come for therapy.

Top
MEDIA
FILMS

"Happiness behind Tragedy",
25 mins. DVD
Original in Korean, dubbed in English and Tamil.

The film is a documentary on Child labour recently in Sivakasi, after a lot of opposition. Sivakasi is well know for its dangerous fire [cracker] works and match factories. The documentary tells us the tragedy of children working in very dangerous circumstances and also it explains the aftermath of accident victims.

Video clippings, :] http://www.tamilinfoservice.com/manitham/hr/children/labour/1.htm.

Part of your contributions goes to the affected children of Sivakasi.
Rates for India- Tamil Rs. 300, English Rs. 400 [both inclusive of postage charges].
MANITHAM - Promoting Human Rights, Protecting Environment.
274 GC, Avvai Shanmugam Salai, Royapettah, Chennai - 600 014, Tamil Nadu.
Mobile : +91-94433 22543
mail : manitham@gmail.com.
Liquid city
30 minutes;
English, Hindi and Marathi (with English subtitles)
Directed and produced by Matthew Gandy

The tortuous flow of water through Mumbai presents one of the most striking indicators of persistent social inequalities within the globalizing metropolis. The documentary film explores the complexity of water politics in Mumbai ranging from the engineering challenge of transferring nearly 3,000 million litres of water a day to the city from the jungles, lakes and mountains of the state of Maharashtra to debates over flooding, privatization and social conflict. The film is based on a unique collaboration between academics and film makers based in London and Mumbai and combines in-depth interviews with activists, engineers, local residents and other voices The film was developed in collaboration with PUKAR and was funded by the Arts and Humanities Research Council. Email:: pukar@pukar.org.in.
Website:: www.pukar.org. in <http://www.pukar.org.in>

Resisting Coastal Invasion
English, 52 minutes
Directed by K P SasiI.

Today, both coastal ecosystems as well as the customary rights of fishing communities over coastal areas are severely eroded by developmental activities and market interests - tourism, industrialization, sand mining, infrastructure-building, aquaculture and rapid urbanization. The only piece of legislation ever enacted to regulate developmental activities along the Indian coast was the Coastal Regulation Zone (CRZ) Notification of 1991. Not surprisingly, in today's age of globalization, the CRZ Notification is increasingly being regarded as an impediment to free market. Moves are afoot to dispense with it altogether. Resisting the Coastal Invasion explores these questions: what are the implications of such a deregulation agenda? Who benefits? Who loses? Who's accountable? Who is to blame? The film captures the struggles of fishing communities who are fighting tooth and nail against the takeover of their lands by the forces of globalization.

For further information:
Phone: 28031935, E-mail: delhidss@gmail.com.
Shree Prakash, INSAF Secretariat, Tel: 26517814, Mobile: 9871880686
www.keralafishworkers.org, www.alakal.org, www.visualsearch.org.
http://www.petitiononline.com/cmz/petition.html.

6 Yards to Democracy
55 mins
Script and Direction: Nishtha Jain and Smriti Nevatia
Camera: Deepti Gupta, Sound: Anita Kushwaha, Editing: Vipin Sharma,
Sound Design: Niraj Gera, Produced by Raintree films.

6 Yards to Democracy revisits a gruesome stampede that took place during an election rally in north India. Thousands of women from poor localities of Lucknow city had been lured there by the promise of free saris; 22 died and hundreds were injured.
This seemingly stray incident uncovers the sordid side of Indian democracy, and connects in significant ways with the daily humiliations forced upon these women and their families.

As boomtown dynamics keep pushing them further into the margins, we observe the women's struggles to keep their homes, hopes, and dignity intact while petitioning an apathetic state for their dues. Contact vikalp_md@yahoo.com

Once Upon a Time in Chheharta
130 minutes-Hindi, English, Punjabi (with English subtitles)
Directed by Nakul Sawhney.

A border town, Chheharta has been conspicuous in the public eye for reasons other than just its proximity to the Attari/ Wagah border or its religious history. It was also an important industrial centre on India 's map, home to 13-14 large mills and several other small scale factories, power looms and handlooms.

Once Upon a Time in Chheharta is both a personal journey and a historic account of the working class movement of Chheharta, now included in the Amritsar Municipal Corporation. The film chronicles the important events and aspects of the movement, from the early 1950's- when the director's grand uncle and grand aunt, Satyapal Dang and Vimla Dang, both veteran leaders of the undivided Communist Party of India moved to Chheharta.
The last five decades in Chheharta have been marked with moments of turmoil, resistance, protest, victories and failures and this film looks at some of the more prominent events while attempting to chronicle this history. Events that talk about how the working class of this town fought to safeguard its rights, how the women of Chheharta, under the banner of the "Punjab Istri Sabha" participated in every strike and struggle, thus becoming an integral part of the movement.

The film ends with a look at Chheharta today and examines the reasons for the closure of the mills.

Contact: Mobile (0) 991 0721 252
Email: nakulss@gmail.com.

Film - CHANDAN SARMAH
A still from the film The Tai Phakeys.

They have withstood the histories of fragile socio-political scenario and managed to keep their identity intact. They are the Tai Phakeys a tiny tribe of less than 3,000 people residing in Dibrugarh and Tinsukia districts of Assam.

Mridul Gupta's 21-minute documentary film The Tai Phakeys is a befitting tribute to this community.

The film talks about the migration of this tribe to Thailand from the Hunan province of China in the 18th century and their entry into Arunachal Pradesh in 1838.

Caught in the outrage of the warrior tribe Khamtis and the Ahom rulers, they finally relocated to Dibrugarh and Tinsukia district mainly on the banks of the Dihing river, as well as adjacent parts of Lohit and Changlang districts of Arunachal Pradesh.

The film is a sincere effort to depict the way in which Tai Phakeys lead their lives. In the process, it also gives us an insight into the tribe's food habits, its patriarchal system and the manner in which funerals and marriage ceremonies are conducted. The film mainly focuses on three major aspects of their day-to-day life – their agricultural life, their religious beliefs and their intimate bond with the river Dihing.

---------------------
Mazi Goshta (My Story)
Has English subtitles. The film is a dramatized story based on life of an artist suffering from Schizophrenia, his and his family's successful battle against the psychological disorder.

Dr.Vidyadhar Bapat Psychotherapist & Counselor
M - 9850415170
______________________________________
Exploring Madness
Directed by - Parvez Imam.

This film comprising of six short sections, brings together a variety of such issues related to mental illness in India. Each section deals with a different issue ranging from people's perceptions of mental illness to debates among professionals and from the problems of women languishing in mental hospitals to experiences of those who have recovered.

Email: f20films@yahoo.com, drparvezimam@yahoo.com.
URL: www.f20films.Com.

---------------------
Our Family
56 mins
Tamil (English subtitles)

http://ourfamily2007.wordpress.com

Written and directed by KP Jayasankar and Anjali Monteiro.
Camera KP Jayasankar.
Editing and Sound Design by KP Jayasankar and Anjali Monteiro.

What does it mean to cross that line which sharply divides us on the basis of gender? To free oneself of the socially constructed onus of being male? Is there life beyond a hetero-normative family?

Set in Tamilnadu, India, `Our Family' brings together excerpts from Nirvanam, a one person performance, by Pritham K. Chakravarthy and a family of three generations of trans-gendered female subjects. Aasha, Seetha and Dhana, who are bound together by ties of adoption, belong to the community called Aravanis (aka Hijras, in some parts of India). Aasha Bharathi, the grandmother, is the president of the Tamilnadu Aravanigal Association, Chennai. Seetha, the daughter lives with her male partner Selvam, in Coimbatore. Dhana, Seetha's adopted daughter also lives with her and shuttles between her adopted and her natal families.
Vikalp_mod@yahoo.com
---------------------

ENVIRONMENT FILMS
Global Warming - a fable from the Himalayas
by Nitin Das (8 mins/ English)

A short 8-minute film shot near Tibet, this is a magical tale about a young boy who finds the solution to global warming from a monk in the mountains. The entire cast of the film is from Kaaza, a small town in Spite Valley. The film was made possible by spit ecosphere, an NGO based out of Spite. The main intention of this film is to spread the message of how fast global warming is impacting the fragile ecosystems.

Changing Climates: The Science
by Television Trust For The Environment
27 minutes/ English.

Ever since the industrial revolution sparked the widespread burning of fossil fuels, climatologists have been preoccupied with measuring the effects of carbon dioxide on the earth's climate. In the first of films on climate change, Earth Report takes a look back over 200 years of evolving scientific thought - sometimes confusing and contradictory - that has shaped the global warming debate.

Climate Change – an Untold Story*
…a series of 4 films, winners of the UK Environment Fellowships, 2005
45 minutes/ English.

Climate's First Orphans
by Nila Madhab Panda

The Weeping Apple Tree by Vijay S. Jodha.

A Degree of Concern by Syed Fayaz,

This film looks at the implications of climate change on glaciers, and how artificial glaciers are improving the water supply of Ladakh for now. A Green Agony by Geeta Singh.

This film explores the unique ecosystem of the Sunderbans and analyses the impact of global climate change on this Indian coastal zone.

Contact Mobile: (0)9999564815 Email: nathaliekoerfer@googlemail.com, www.globalcimatecampaign.org, space.kriti@gmail.com/ aanchal_kapur@hotmail.com/ www.krititeamblogspot.com.

----------------------------------------------------------------

The Many Faces of Madness
Directed by Amar Kanwar.

The Many Faces of Madness emerges from the reality of ecological destruction in India. The film travels through different parts of the country, revealing glimpses of traditional water harvesting systems, mining and chemical pollution, community forest protection, displacement, deforestation, bio-piracy and coastal ecosystems. This award winning film brings people face to face with the intensity and impact of globalisation and industrialisation and passionately pleads for wisdom while facing these challenges.
Contact : documentary24x7@ndtv.com Email : amarkanwar@gmail.com
----------------------------------------------------------------

ViBGYOR Film Collective, invite your films to the 3rd edition of the ViBGYOR Short and Documentary Film Festival, to be held from February 13th- 17th, 2008 in Thrissur, Kerala, India. ViBGYOR is a meeting place for filmmakers, social activists and media students, a dedicated place for films on social and environmental issues, and a campaign space for people's movements.

Films can be submitted under the following categories. There is no entry fee for the Non-Competitive categories. All films entered in all categories will go through a Pre-selection round. The last date for submission is December 15, 2007 (post marked).

2. Focus of the Year: ENERGY
3. Music Videos, Animation, Experimental (Micro films, Mobile phone films, etc)
4. Competition Section: KERALA SPECTRUM (restricted to residents of Kerala)
ViBGYOR Festival Office
Chetana Media Institute,
3rd Floor, Kalliath Royal Square, Palace Road,
Thrissur, Kerala, India – 680 020.
For more information contact 9447000830/9446529991/0487-2330830
Email: vibgyorfilmfest@gmail.com
Website of ViBGYOR 2008 : http://www.vibgyorfilm.com will be up soon.

----------------------------------------------------------------

Telugu audio/video songs to spread HIV/AIDS awareness.

This is a video album on condom usage. These are dancing condoms are funny and hilarious.
The clip is on youtube – url: http://au.youtube.com/watch? v=BTLj_3R0- 2g. It is a good way of spreading the messages on HIV/AIDS/STI' s specially among youth. Contact Srinivas e-mail: ceenusri@yahoo.com.

----------------------------------------------------------------

BOOKS

Religious Division and Social Conflict: the Emergence of Hindu Nationalism in Rural India by Peggy Froerer, Social Science Press, New Delhi, Distributed by Orient Longman Pvt. Ltd., 1/24, Asaf Ali Road, New Delhi-110002. Rs. 650.

Peggy Froerer's book examines the transmission of Hindu nationalist ideas by members of the Rashtriya Swayamsevak Sangh (RSS) to rural "adivasis" and the impact it came to have on inter-group relations, in particular the relations between Christians and Hindus. She argues that it is particularly important to understand how the Hindutva ideology has penetrated into the everyday lives of "adivasi groups" because despite the setbacks that the movement has received at the national level, it seems to be gaining in strength in states with large "adivasi" populations.

----------------------------------------------------------------

Alternative Schooling in India
Edited by Sarojini Vittachi,
Founder Director, Girls Education Plus, Bangalore and Neeraja Raghavan, writer and educational Consultant, Bangalore with Kiran Raj, technical writer, Bangalore. 2008, 252 pages, Paperback: 978-0-7619-3619- 0.

For India, Nepal, Bhutan: Rs.360.00

This book brings into focus the innovative methods of learning in many Indian schools. It sheds light on schools that make the learning process fun for the teacher as well as the taught, in contrast to the whirl of examination- oriented learning in mainstream schools.

The book includes exclusive articles by leading practitioners in the field, who offer an insight into the ground reality when a certain philosophy is applied to a school, and also experiential accounts of how such alternative practices mould the learner, teacher and impact on parents as well. It includes a directory of alternative schools in India, including many schools that are tucked away in remote corners of the country. Interestingly, the common thread binding these 'alternative schools' is concern for the welfare of the child by teachers who see their work as much more than a job.
----------------------------------------------------------------

Current Conservation
Edited by Dr. Kartik Shanker and Dr. Ankila Hiremath
This is a new popular science publication on conservation launched with the support of the Foundation for Ecological Security (FES) and the Ashoka Trust for Research in Ecology and the Environment (ATREE). It carries the latest in research news from the natural- and social-science facets of conservation, such as conservation biology, environmental history, anthropology and sociology, ecological economics, and landscape ecology.
Contact: Meera Anna Oommen.ATREE 659, 5th A Main Road, Hebbal, Bangalore 560024, Karnataka. Tel: 080 353 0069, 353 3942 Fax: 353 0070. http://www.conservationandsociety.org/currentconservation.html Email: meera@atree.org.

Local Governance In India — Decentralization and Beyond
Edited by Niraja Gopal Jayal, Amit Prakash, Pradeep K Sharma
______________________________________________________________________________________________________

Oxford University Press, YMCA Library Building, Jai Singh Road, New
Delhi-110001. Rs.695.

It contains essays on the functioning of local government institutions in contemporary India. These papers, originally presented at a UNDP and UN-Habitat conference in New Delhi in 2002, dispel many myths about Indian democracy. The collection, focusing on local government institutions, shows that at the very point where the Indian state most needs to involve the public and to work, it fails, and even intensifies the suffering of hundreds of millions in one of the world's most unequal and oppressive societies.
______________________________________________________________________________________________________

A Guide for Monitoring and Evaluating Population-Health-Environment Programs - by Theresa Finn.

Url: http://www.cpc.unc.edu/measure/publications/pdf/ms-07-25.pdf

For well over three decades, dozens of community-based development and conservation projects experimented with a seemingly unlikely innovation: combining efforts to help communities manage and conserve their natural resource base with efforts to improve their health and access to family planning information and services. These projects came about as conservation or community development projects focusing on natural resource management found that women came forward and asked for help to plan pregnancies and improve their communities' health. Conservation, community development, and health nongovernmental organizations (NGOs) then took the initiative to create programs linking health and conservation. These programs evolved into the current generation of population, health, and environment projects, or PHE projects as they are now more commonly known.
-------------------------------------------------------------------

WEBSITES
New Web Edition of Economic and Political Weekly (EPW) www.epw.org.in.

The EPW web edition has been comprehensively redesigned with a new look, feel and additional features. The web edition will now have interactive features (Blogs), provision to review papers submitted to EPW, featured Themes with selections from the archives, etc. Visitors to the site no longer need to register. Non-subscribers can read all the articles in the current and past four issues without registration.

There is a Guide to the Site explaining all features in detail.

Top
More stories
News

Campaign for improved electoral process and system.

Bangalore: A group of citizen-activists under the banner of Citizens' Action Forum and a number of reputed NGOs / CBOs, CIVIC, Election Watch, KKNSS [Karnataka Kolageri Nivasigala Samyuktha Sanghatane], the Public Affairs Center and Swabhimana have come together for the purpose of initiating the cleansing of our electoral system & processes. The objective of this cleansing program is to shift the focus of all elections from vote-bank politics to one that is issue-based.

This campaign is focused on a five-pronged agenda -
1. Cleansing of the Voters' Lists: to ensure that voters' lists are error-free, with all genuine voters' names entered therein and / or incorrect names deleted.
2. Voters' Charter: that defines the relationship between the elected representative and the voters of the relevant constituency.
3. Voters' Manifesto: - the issues of concern to the aam aadmi at each election.
4. Encouraging Independent Candidates: in order to enhance the quality of candidature.
5. Motivating Voters: an on-going campaign till the desired level of purity in elections is achieved.

-------------------------------------------------------------------

Tackling HIV/AIDS: Saathi Home for Truckers

Saathi Care Home Ujjain starts a second clinic in Mahidpur specially for truckers. Here two doctors will be available for the drivers and for cleaners. Mahidpur is the largest truck drivers tehsil in Madhya Pradesh (MP). Saathi care home started a HIV clinic in 2005 at Ujjain. Dr Anil Jain is giving service to people living with HIV AIDS (PLHA). Free Nutrition is another facility for PLHAs. This is available for all the PLHAs in MP. Helpline number :0734-2580402. Contact: Fr John, Saathi, E-mail: <tom4youall@yahoo.com>.

-------------------------------------------------------------------

Observing World AIDS Day

In Karnataka…
The Red Ribbon Express a train which aims at spreading awareness about HIV and AIDS stopped at various stations in Karnataka in December 2007. This seven coach train is specially designed jointly by the National AIDS Control Organisation (NACO), the Rajiv Gandhi Foundation and the Nehru Yuvak Kendra. An exhibition providing information on various aspects of the disease would be showcased in two coaches, while one coach each would be devoted for AIDS interactive training, conference meeting counselling and administration and management functions. Another coach will have artists who would render performances to spread awareness about AIDS. According to Collector R K Mathur, directions had been issued to Railways, Police, District Panchayat, Education, Health and Woman and Child Welfare departments to make arrangements so that maximum people could visit the train.
In Bangalore
World AIDS Day Campaign on 1 December, 2007 was also observed by the Bangalore HIV and AIDS Forum with the 2007 theme, "leadership", which highlights the need for innovation, vision and perseverance in the face of the AIDS challenge. The campaign called on all sectors of society such as families, communities, civil society organizations and governments to take the initiative and provide leadership on AIDS. In Bangalore, activists organised a programmes of fasting in solidarity for the rights of People Living with HIV and cultural activities and other events on the two issues of 1) Treatment care and Support and 2) Stigma and Discrimination. Contact: Action Aid India, No. 139, Richmond Road, Bangalore - 560025, Tel. (080)25586682, Mobile: 9845538873.

A public campaign to observe the World Aids Day and International Human Rights Day was organised on 8th and 9th Dec 2007 at Bannappa Park in Bangalore by Sadhane, Samara, Karnataka Sexworkers Union, Sangama and Suraksha. Contact: Reginald Watts, Sangama, No.9, 'ABABIL', Patel Cheluvappa Street, J.C.Nagar (M.R.Palya), Bangalore 560006, Phone.No.080- 23438843 / 23438840. E-mail: advocacy@sangama.org

In Delhi
More than 700 school students were from various government and private schools and out of school adolescents took the lead to pledge support to 'World AIDS Campaign - Stop AIDS Keep the Promise', at Ansal Plaza, Amphitheatre in Delhi. They shared their opinions on the topic of "sex education" in schools. They reconfirmed the need of education in the reality of HIV and AIDS. At the same time they showed their commitment to end all forms of discrimination against those living with virus. "We may be informed about sex but we need to be educated about it" declared an 11th grader loud and clear. The programmes started with the performance of a rock band 'Ekam Satyam'. Dr Fiona Barr, Country Director, India HIV/AIDS Alliance commented, "The importance of the programmes was highlighted in a skit performed by out of school children that emphasised the right to dignity and well-being for children living with HIV. It is important for children of all ages to realise what it is to be in a family affected by HIV and AIDS". This collaborative initiative of UNESCO, India HIV/AIDS Alliance, Save the Children, Plan, Care, Medicare Foundation, Red FM and 10-Delhi based NGOs ushered a partnership between UN, International NGOs, corporate house, local NGOs and Media to accelerate programmess targeted at children. Contact: India HIV/AIDS Alliance, E-mail: <msharma@allianceindia.org>.

In Mumbai
Indian Development Foundation and Vivek Education Society organised a World AIDS Campaign on December 1, 2007 - World AIDS Day at Goregaon West, North Mumbai. Nearly 300 Students from class XI onwards formed the major audience who received the vital information on HIV/AIDS. A group of 40 students from Podar International School (IB) also took active part in the campaign. Red Ribbons were distributed to all the participating students while pamphlets on HIV/AIDS were exchanged for more knowledge. Students and dignitaries joined in lighting candle to mark the World AIDS Day and pledging to fight against the disease.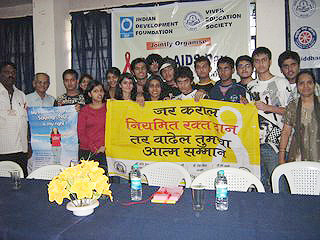 -------------------------------------------------------------------

In Chennai
The Alliance Francaise of Madras in association with Solidarity and Action Against the HIV Infection in India (SAATHII), Shakti Center, Nalamdana and Prakriti Foundation organised a series of events over four days from the 30 Nov-3r December, which included panel discussions on 'Gender, Sexuality and HIV' and 'Women, Chidren and HIV', performances, film-screening and an exhibition. Contact: SAATHII: Solidarity and Action Against the HIV Infection in India 78, Pushpa Nagar Main Road, Nungambakkam, Chennai 600 034. Tel. (044) 2817-3947/48. website:http://www.saathii.org.

-------------------------------------------------------------------

Activism Against gender violence
The 16 Days Activism originated from the first Women's Global Leadership Institute sponsored by CWG L in 1991. Participants chose the dates, 25 November, International Day against Violence against Women and 10 December, International Human Rights Day, in order to symbolically link violence against women and human rights and to emphasize that such violence is a violation of human rights. This 16 Days period highlights a range of significant international awareness days that fall within the 16 Days of Activism including: 29 November, International Women Human Rights Defenders Day; 1 December, World AIDS Day; and 5 December, International Volunteer Day.

New Delhi: The theatre group of Swayam, an NGO, staged plays highlighting the provisions of the Protection of Women from Domestic Violence Act 2005."We want to dispel the myths about the Act, which is not about punishment but stopping violence being meted out to women," said Anuradha Kapoor, the director of Swayam. "The authorities are yet to take adequate measures for effective implementation of the law. There are not enough protection officers, who are to be appointed by the government — one for each district," she added. "The campaign period is significant, as it coincides with International Day Against Violence Against Women, World AIDS Day and World Disability Day". The campaign also featured a rally on wheels, workshops with police and "protection officers" and information with fairs exhibition of posters on violence against women. Aman: Global Voices for Peace in the Home, an international network of NGOs, organised a fortnight-long drive as part of the International Campaign to Stop Violence against Women and Girls.
South Asian Women's Day
New Delhi: Activists from over 20 organisations with orange bands on their foreheads marked their silent presence gathered at the Central Park in New Delhi on 30 November to celebrate the South Asian Women's Day – an occasion to spotlight women's struggle for peace, justice, human rights and democracy in South Asia. The women of South Asia, on this occasion, expressed solidarity with the people of Pakistan, Myanmar and Bangladesh, demanding restoration of democracy. In a powerful statement from the podium, the popular Bangladeshi band 'BANGLA' led by Anusheh Adil, played a piece that was specifically dedicated to South Asian Women's solidarity. According to Anusheh, "It is time that the region's women come together to speak out against violence against women and girls and for women's empowerment."

Kamla Bhasin of the SANGAT secretariat, pointed out that other events were also happening in the region. "Kriti, Peace Women Across the Globe, and SANGAT jointly organized an exhibition of 1,000 Peacewomen at Kashmir. The same exhibition was also showcased in Islamabad by Rozan and SANGAT. The Aurat Foundation along with others in Lahore, the Women and Media Collective in Sri Lanka; SANGAT in Dhaka, Bangladesh; Strii Shakti, WOREC and others in Nepal, IWID in Tamil Nadu, SWAYAM in Kolkata, Olakh in Vadodara, and SAHRWARU in Ahmedabad, the North East Network in Guwahati, have all organised demonstrations in their respective countries on this day," she said. Participating organisations included ANHAD, Action Aid India, Amnesty International, CADAM, Centre for Democracy and Social Action, CWLR, HRLN, ISI, Jagori, Kriti Team, Muslim Women's Forum, NEN, One World South Asia, Peace Women Across the Globe, SANGAT, and WNTA.
Education programmess
10 years since AID INDIA started its education activities in Tamilnadu. Starting with a few tuition centers in 1997, today its education programmess touch nearly a million children in villages and schools across the state.
1. Padippum Inikkum (Tamil Reading Campaign is mow reaching out to almost a million children across 10 districts of Tamil Nadu.
2. Eureka Children's Libraries: 2300 low cost villages libraries in 17 districts reach out to over 1 lakh children in the state. Recently a Children's Drama Festival was organized as part of the library program in which 15000 children participated.
3. Ariviyal Anandam (Science is Fun): In 1000 schools across the state, running a number of smaller scale but very important education initiatives like the Eureka Schools, Learning Centers, English Classes, Math Program, Computer Centers and Eureka Books. Contact: AID INDIA New No 34, Rathenam Street, Gopalapuram, Chennai – 600086. Tel. (044) 28350403, 94440-61033 Email: eurekachild@gmail.com.

-------------------------------------------------------------------

Seminar on Leprosy
Indian Association of Leprologists - Maharashtra Branch as a part of its Continuing Medical Education, in collaboration with the Bombay Leprosy Project organized an Academic Review meeting on the Proceedings of the conference of Indian Association of Leprologists, held at Kanpur in Nov 2007. This meeting was held on 4 December 2007 in Mumbai, where experts from the field of Leprosy, Dermatologists and Public Health Specialists and programmes Managers from Mumbai and Thane district, Faculty and Post graduate students from the city medical colleges deliberated on the proceedings including current scenario and recent developments in Leprosy. Contact: bombayleprosy@mtnl.net.in.

World Volunteer Day
To salute the spirit of volunteerism and acknowledge the contribution of volunteers who have given valuable time for social causes, The Society for Service to Voluntary Agencies (SOSVA) organised a programme and s human chain on 5 Dec 2007 at Bandra Bandstand, Mumbai with chief guest, Dr. Harish Shetty, Psychiatrist, who is the founder of " Maitri" an organisation that works with families affected by mental illness. Contact: Society for Service to Voluntary Agencies (SOSVA), Petit Municipal School, Ground floor, Room no. 2& 3, Opposite K. B. Bhabha Hospital, Bandra (W), Mumbai 400 050. Tel: (022) 26555704, 26403490, 26411205, Fax: 26422026. E-mail: sosva@hotmail.com, volact@hotmail.com, radha@sosva.org.in. website: www.sosva.org.

VCTC Peer Counsellor
Bangalore: A peer counsellor at an ART centre or the Voluntary Counselling and Testing Centre (VCTC) is also an HIV positive person who is taking the ART medicine her/himself. Peer counsellors at the ART centers basically create confidence in the patients and talk about the basic facts of HIV infection, testing methods, the importance of a good lifestyle and taking regular medication. Many women living with HIV are looking for job opportunities since most of them are widows and have no means to survive. Even if they do get jobs, they lose their job whenever they fall ill. Milana, a family support network of people living with HIV and AIDS, has appointed eight women as peer counsellors. There are 10 more women who desperately need financial support,'' says Jyothi Kiran, project director of Milana. If your organization can sponsor peer counselors can call (080) 25545691 or e-mail: milana–bgl@yahoo.co.in.

Disability Awareness Week Website
Bangalore: Diversity & Equal Opportunity Centre (DEOC) has launched the National Disability Awareness Week (DAW) and the Disability Awareness Week Website: www.wdd.co.in. to create awareness on the issue of disability in the corporate sector and to commemorate the World Disability Day 2007 on 3rd December.

Disability Awareness Week Website: (www.wdd.co.in), provides information and significance of WDD; information on the common theme; activities that corporates can do during the Week; downloadable awareness & promotional materials; checklists, online Awareness / Training Module, etc. The website is a common platform for creating awareness and for sharing experiences. Sign up at www.wdd.co.in to get regular notification regarding the various updates during the Disability Awareness Week (DAW).

Interested companies will be provided with necessary information and support from DEOC to conduct awareness activities. The companies can also upload their events for the DAW. Contact: (0)98805 83277 / (080) 23217588.

International Funding for AIDS prevention (2007-2012)
The National AIDS Control (NACO) programmes Phase III aims at reducing new infections estimated in 2007 by 60% in high prevalence states so as to obtain the reversal of the epidemic & 40% in the vulnerable states so as to stabilise the epidemic by 2012.
It was approved with a total outlay of Rs.8023 crore for the five-year period 2007-2012. Of this, Rs.1125 crore (US 250 million dollar) has been obtained from the World Bank. The World Bank loan is proposed for up-scaling targeted interventions among high risk groups and vulnerable population, improving access to safe blood, strengthening services for the treatment of sexually transmitted infections, capacity building, condom promotion and increasing awareness about preventive measures and demand generation for services available. The fund will also be utilized for augmenting the capacity for programmes delivery at district, state and national levels and also to strengthen the information management system to improve the effectiveness of data collection and analysis. These activities will be taken up throughout country with a higher focus on 195 districts, which have a higher prevalence of HIV infection in the country.
Dr. Anbumani Ramadoss, Minister for Health & Family Welfare, informed the Rajya Sabha that during the period 2007-2012, the funding proposed by international agencies is as follows: World Bank = Rs.125 cr., DFID = 862, GFATM = 1787, USAID = 675, UN Agencies = 323, Bill & Mellinda Gates Foundation =1425, Clinton Foundation = 113, EU =77, Others = 741. The World Bank support is a loan and other funding are grants.
Contrary to conventional wisdom that high prevalence of HIV/AIDS is restricted to southern states and some places in the North-East, a new classification done by the National AIDS Control programmes (NACO) shows that the disease is spread across as many as 20 states in 163 districts. These 163 districts have been categorized as "A districts" in the third phase of the NACO programmes beginning April 1, 2007: districts where more than 1% of the general population and more than 5% of the high-risk group is infected with the virus. Experts say this means these districts have crossed the "epidemic threshold" for the disease.

Animal welfare
3rd Ambulance in PAWS's fleet
Mumbai: PAWS has acquired its third ambulance - new Maruti Omni Ambulance came with help from Wildlife S.O.S. -Delhi & WSPA - London (World Society for Protection of Animals) & support from Philip & Trix Woolen of 'The Winsome Constance Kindness Trust ' Australia.

PAWS in its first year of inception (2001) got their first ambulance service for Animals in Mumbai which catered large animals till 2006. In year 2006, PAWS got new ambulance from funds that came from Animal Welfare Board & PAWS staunch supporter Mrs. Fizzah Shah. Now by introducing this third ambulance, PAWS can separate and attend the domestic animals & wild animals-mammals calls. Contact: Nilesh Bhanage Tel: (022)251-2625059, Cell: +91 9820161114 or log on to www.pawsasia.org <http://www.pawsasia.org/>.

Relief Work in Nandigram
Normal lives of 10,000 – 12,000 families in Nandigram have been adversely affected, being displaced from their dwellings, livelihoods being jeopardised, and remaining scattered mostly staying with their relatives. The CPM cadres have forcibly closed down all other relief camps. The only relief camp running with about 1500 people is at Brij Mohan Tiwari Shiksha Niketan in Nandigram. Volunteers are needed to go to the area to break the atmosphere of terror created by CPM cadres so that families may return to their homes.

`Dharna Manch' has been set up in Dharamtalla, next to Esplanade Metro Station in Kolkata, from where relief work is being coordinated. Every day relief trucks leave from here with clothes, food grains, tarpaulin sheets, baby food and other items accompanied by some volunteers. Contact: Debjit Dutta 9433624241 and Sudipto 9433972662. Donations should be sent in the name of 'Nandigram Support Fund' to A/c No. 15210153262 of Canara Bank, Bowbazar Branch, Kolkata.National Alliance of People's Movements (NAPM), Asha Parivar (www.ashaparivar.org), Association for India's Development (AID, www.aidindia.org).

VHS receives donation
Chennai: The Voluntary Health Services (VHS), Taramani, received a donation worth Rs.1.76 crore from the estate of S. Krishnaswamy and his wife, S. Kamala. Elaborating on the projects the donation would fund, honorary secretary of the VHS N.S. Murali said that a new block at a cost of Rs.40 lakh would be constructed in the name of the couple, two mini health centers would be set up at a cost of Rs.11 lakh, new equipment would be purchased for Rs.25 lakh and the remaining Rs.1 crore would be deposited. The interest received on the deposited amount would be used to revise pay packages for the VHS staff, he said. Agriculture scientist and VHS president M .S. Swaminathan said the vision of VHS founder Dr. Sanjivi was more relevant today, when a large section of the population had a purchasing power of only Rs.20 per day. Failures in agricultural production were partly due to farmers' poor health, he said. "This donation is very significant, " he said, particularly in the context of realising Dr. Sanjivi's vision of providing high quality medical care to all.

Ma Foi Foundation celebrates
Chennai: MFF in Chennai celebrated its first anniversary on 26 Sept 2007. It has adopted 1130 poor children from the Sivakasi and Chennai areas from 46 schools – they get scholarship, mentorship and career education from 5th standard to college completion (Rs.1200 pa up to 10th std, Rs.1500 pa during higher secondary and Rs.5000 pa during college). All its Corporate Social Responsibility efforts have been integrated under MFF since last Sept. It runs a school for the underprivileged in Chennai with about 650 children and has taken micro-finance to about 8000 women through Self-Help Group and fostered about 450 tiny enterprises. It has also recognized 10 Young Achievers (unmined gems) every year during this function. Contact: K Pandiarajan, Chennai -Tel. (044) 6622 8000 Website: www.themafoifoundation.org.

RTI
Kanpur: Two camps organized under the title 'Ghoos ko Ghoonsa' (Lets Beat up Corruption) focused on raising awareness among local communities about Right to Information and providing training to people on how they could take advantage of this right and access information from government offices. On 10th October, the awareness camp and workshop organized at Phoolbag Grounds, coincided with 'Tehsil Day' when communities from the 'Tehsil' come to meet with government officials. Between 500 to 600 people took advantage of the support by camp volunteers to file RTI requests from government officials.
The camp shifted outside the Kanpur Development Authority office on 11th October. This was the culmination of a 6-month campaign in Kanpur during which time various workshops were held - in fact this was the 5th camp outside KDA offices in the 6 months. In Kanpur the campaign was run by the help of Asha, local labor unions, NAPM, RTI Center, Janhit Jagrukta Kendra (Public Welfare Awareness Center), and others.

In Assam, RTI camp were held in Baksa district on 26th September. This one day camp was held at Tamulpur Development Center with literature and handout presented in Assamese and Bodo languages. Over 300 women from local villages joined the camp. RTI guidelines and procedures were explained at the workshop. Numerous RTI applications were filed by these women during the camp.

Electricity Supply Monitoring Initiative
Mumbai: Prayas launched a Electricity Supply Monitoring Initiative (ESMI) which captures supply interruptions data as well as voltage levels at the ordinary consumer location. The ESMI provides specially-developed data loggers, which are installed at different locations in an area, record voltage as well as supply interruptions. This data will be periodically published on the website. Poor supply quality (i.e. frequent supply interruptions and low voltage levels), is the most common complaint by electricity consumers and often results in consumers unwillingness to pay. Poor supply quality forces consumers to either invest in back-up devices such as stabilisers, inverters and generators or they suffer loss of productivity and inconvenience.
Contact: pradnya@prayaspune.org.

Villagers File Police Report Against Coke
Ballia, UP : On October 25th, 2007, over 600 people marched and rallied against the Coca-Cola bottling plant in the village of Sinhachawar in Ballia, demanding that the plant be shut down permanently. The community has accused the bottling plant of pollution and also illegally occupying land held by the village assembly.
In 2003, the Central Pollution Control Board (CPCB) of India assessed the sludge at eight Coca-Cola bottling plants, and found them all to contain excessive levels of lead, cadmium or chromium. As a result, the CPCB ordered the Coca-Cola company in India to treat its waste at all its bottling plants as industrial hazardous waste, and deal with it accordingly. A visit by community members to the factory premises in May 2007 found the bottling plant indiscriminately dumping its hazardous waste inside and outside the factory premises. The dumping of such hazardous waste violates the Hazardous Wastes (Management and Handling) Rules, 1989 from the Ministry of Environment and Forests of India. The Coca-Cola bottling plant in Sinhachawar has also built its boundary walls encompassing some land that is owned by the village assembly. The community is also concerned about water shortages in the area as a result of the extraction of water by the Coca-Cola bottling plant.
"We are demanding that the Coca-Cola bottling plant cease its operations permanently because they are destroying our land and water, the very source of our livelihoods," said Mr. Baliram Ram of the Coca-Cola Bhagao, Krishi Bachao Sangharsh Samiti, the main organizer of the protest. The protest at the Coca-Cola bottling plant came a day after another demonstration at the District Magistrate's office in Balia on October 23 where community members presented their demands to the District Magistrate. The head of the village council, Ms. Chinta Devi, has led the campaign to permanently shut down the plant.
-------------------------------------------------------------------
Condemnation of victimisation of activists in Rajasthan
"We strongly condemn the attempts by Rajasthan Government to replace the 1861 Police Act by a new draconian law which gives more powers to the police against the people. We further take serious exceptions to the Rajasthan Government's attitude of victimization of several social-political activists belonging to progressive organizations and the minority community. They include Kavita Srivastava of PUCL, Nisha Sidhu of NFIW and Mohammed Haroon Rashid, Mohammad Imran, Ayaz Siddiqui, Abid Mohammed, Abdul Majid, Ghiyas Anwar and Mazar Beg some of whom are also associated with the Jamat-e-Islami Hind. We believe these steps are against democratic spirit and must be immediately reversed. We also believe that keeping dossiers and profiling of activists and people's organizations which is presently happening in Rajasthan is illegal. It is a violation of the right to expression and basic human rights". Signed by: Medha Patkar, Aruna Roy, Harshmander, Dr. Sunilam,Arvind Kejriwal, Anand Patwardhan, Prashant Bhushan ,Colin Gonsalves, Anil Chaudhary, Arundhati Dhuru, Sandeep Pandey. Contact: Aruna Roy: 9414007305, Medha Patkar 9869446684, Harsh Mander 9810523018; Sandeep Pandey and Arundhuti Dhuru 9415022772.
E-mail: ashaashram@yahoo.com.

-------------------------------------------------------------------

Domestic Violence Act with Retrospective Effect
The Delhi court has given a ruling allowing women to seek relief under the Protection of Women from Domestic Violence Act, 2005 for atrocities committed even before the statute came into force. This means pending cases on matrimonial disputes or maintenance under other Acts filed before the enforcement of the Domestic Violence Act on October 26, 2006 can ask for civil remedies under this Act. These are related to protection, residence or custody order, monetary relief or compensatory claims.
-------------------------------------------------------------------
International Non-Violence Day (pix)

Mumbai: PCGT and Bombay Sarvodaya Mandal along with the NSS and NCC units of S.N.D.T. and Mumbai Universities jointly organized a mega hour-long event at the Mumbai University Stadium grounds on 2nd October, 2007, to commemorate International Non-Violence Day.

More than 9000 students from 90 colleges and 5 schools participated in this mega event. The programme started with an introductory speech by Dr. P. N. Pabrekar, NSS Coordinator, Mumbai University, followed by Gandhiji's bhajans and motivational speeches on non-violence by Dr. Chandra Krishnamurthy, Vice Chancellor of SNDT Women's University; Dr. Arun Sawant, Vice-Chancellor of Mumbai University and Mr. Julio Ribeiro, Executive Chairman of PCGT, who also made the gathering aware of the Right To Information Act and its benefits. The culmination of the programmes was the pledge of non-violence read in English by Dr. Chandra Krishnamurthy and in Hindi by Dr. Arun Sawant and repeated by the entire gathering.

Barrier-free School for disabled
Kolhapur: Helpers of the Handicapped, Kolhapur has been providing rehabilitation to persons with disabilities since 1984. During this period it has provided medical aid, education, vocational training, as well as employment to more than 13,500 persons so that they can earn their bread and live with dignity and self-respect. The Samarth Vidya Mandir integrated co-ed school at Shanti Nagar Uchgaon was established in 2000. In the existing school building there are 305 physically challenged as well as able bodied boys and girls studying from Class I to Class VII. `Samarth' is the only integrated school in the region which is totally barrier free. All facilities including toilets are easily accessible by even the most severely handicapped student. A wheel chair bound student can move around the entire school without any help. No zilla parishad school has this kind of facility. `Samarth' has been providing quality education at minimal cost to rural boys and girls coming from economically backward families. The Government of Maharashtra has sanctioned it a two-acre plot adjacent to our existing hostel-school complex for construction of new school building and playground.

The construction which is being managed only from individual donations can not be completed without adequate support from general public. Contact: Naseema Hurzuk, Helpers of the Handicapped, Kolhapur Tel.Off : (0231) 2680026 / 6521294; Website: www.hohk.org. E-mail: klp_crusade@sancharnet.in.

Medical services available
Mumbai: A heart and multispeciality hospital at Byculla in Mumbai with all modern amenities and diagnostic facilities is willing to serve any NGO or any person who need treatment or any hospital facilities at nominal price. It can also arrange free camps. Contact: Dr Kagzi, Tel (022) 23740000 or visit website for more information: www.balajihospital.net.

UNITAID fund for drug purchase
Healthcare NGOs, physicians and networks of people with HIV/AIDS have sent a memorandum to Prime Minister Manmohan Singh, urging him to speedily ensure that India joins UNITAID, an international drug purchase facility.

They say that in the next few years there will be huge fund shortages to buy essential medicines in countries like India. Malaria, tuberculosis (TB), HIV/AIDS are illnesses for which, experts say, a second line of medicines will soon be needed.

A part of the fund generated by each country goes to UNITAID. With this UNITAID does bulk purchase of drugs and gives it to needy countries. Every flight ticket purchased automatically donates a dollar or two to UNITAID. In the past one year, over $300 million has been collected from nine member countries through this mechanism. India has about 450 airports, 50 foreign airlines flying in, and 12 domestic airlines. Air traffic in India is projected to be to the tune of 90 million people by 2015. Today there are 50 million air travellers in India, annually.

Useful Documents and Helplines
Here are some very useful documents and links that would help patients and their families reduce medical expenses. These have been uploaded in the helplines section on Karmayog. (http://www.karmayog.org/helplines/)

• Rates of various medical procedures at recognised Hospitals, New Delhi
(36 pages) - http://www.karmayog.org/redirect/strred.asp?docId=10373.

• Hospital Online Listing
http://www.karmayog.org/redirect/strred.asp?docId=10376 (a website that provides details of Doctors, their speciality, contact address, lists of hospitals, diseases, procedures, drugs , lab tests etc.)

• Find a Doctor / Give me a Quote - from the Wockhardt Hospitals website -
http://www.karmayog.org/redirect/strred.asp?docId=10378

• Community Initiatives and Charitable Foundations of the Apollo Hospitals -
http://www.karmayog.org/redirect/strred.asp?docId=10377
-------------------------------------------------------------------
Free surgery available for needy children
Manipal Foundation is looking for "poor and needy" children below 16 yrs of age who require heart surgery. All kinds of heart surgery are possible. The surgery, bed, medicines etc will be completely FREE and taken care of by Manipal Foundation. The children must be from poor and needy family. No middle class or rich children please. Operations will be done in Bangalore at Manipal Hospital. Send details to Bala Warrier, CEO, Manipal Foundation, E-mail: manipal.foundation@manipalgroup.com.
Citizens for Animals (CFA)

CFA (Citizens for Animals) gathered for a peaceful rally to express their concern for the deterioration of animal rights and the escalating levels of cruelty towards them.

• Our urban spaces "animal free" zones.

• To voice our disapproval of haphazard and half-baked implementation of animal policies. We question the lack of transparency, corruption, misuse of funds and managerial negligence that shrouds animal welfare schemes. We call for definite, tested and effective animal policies that WORK at all levels.

• Scientific and humane management of monkeys in urban spaces.
Contact - Rishi Dev -9868881566, Kanishka Sharma 9818887373, Rukmini Sekhar - 9818432176
E-mail - abhyastrust@gmail.com.

World Day for Prevention of Child Abuse
Chennai: EMPOWER working in urban slums in Tuticorin has formed 40 teen health clubs. Active members of the Teen Health Clubs in the age group of 10- 14 years were recruited as Peer Educators; 50 volunteers were trained on Personal safety education and life skills training. They had imparted the same to about 500 peers of the age group 7 - 14 years in the slum communities in Tuticorin backward settlements and empowered the children of Tuticorin slum areas to identify sexual abuse, openly seek help of elders if subjected to abuse (confidence, connection), would be equipped with life skills to prevent abuse (competence), with values and ethics imbibed (character) , would be willing to help their peers and friends (caring) and in the process pave way for community free of abuse among children (contribution).
This project is supported by Youth Service America which is a nonprofit resource center that partners with thousands of organizations in more than 100 countries and is committed to increasing the quality and quantity of volunteer opportunities for young people ages 5-25, to serve locally, nationally, and globally. Contact: A. Sankar, Executive Director, EMPOWER, Tuticorin-, Tamil Nadu. Telefax: 91 461 2310151. Mobile: 094431 48599, www.empowerindia.org.

-------------------------------------------------------------------

Supporting MDGs
A large congregation of people resumed their march from Mathura to Delhi in support of the Millennium Development Goals. They all marched with posters and banners especially made to mark the occasion on October 17. The 25,000 are part of the people's march organised by the Ekta Parishad along with 290 organisations from across the country under a campaign called Janadesh 2007 or People's Verdict, demanding a pro-poor national land reforms policy. The other participating organisations include Mazdoor Kisan Shakti Sangathan, Sarva Sewa Sangh, Jal Biradari, etc.

These people, old and young, women and children, represent the most deprived people of this country – the tribals and the dalits. They are landless, they are poor. Invisible and voiceless, they have decided to walk all the way to the capital to be seen and to be heard by all those, who in the glitter of neon lights and in the cacophony of blaring horns, have lost the capacity to see and hear.
For more than 16 days they have been on the roads in a five-kilometer long queue – walking, singing and dancing. They carry flags, banners and posters reflecting their woes and their aspirations.
"The land and livelihood resources should be primarily used for eradicating poverty and not to protect the interests of the likes of Tatas and Birlas," said P.V. Rajagopal of the Ekta Parishad. But the irony is that issues concerning livelihood of the poor are not in the priority list of even the Central Government. In Delhi at Jantar Mantar where the Ekta Parishad is simultaneously holding a dharna (sit-in) since October 3, some 350 people took out a procession in support of the MDGs from Rajghat.

What the government claims
As per the official records of the Orissa state government, it provided 799 lakh person days of employment to 13,94,169 households during 2006-7 and no family was denied wage employment. In other words, every needy and demanding family in the state was given an average 57 days of wage employment during the year and not a single needy household was denied wage employment in 19 NREGS districts of the state. The Orissa government also claims that 1,54,118 families in the state completed 100 days of wage employment during 2006-7.
However the Delhi-based Centre for Environment and Food Security (CEFS) conducted a survey in 100 villages from six districts of KBK (Kalahandi-Bolangir-Koraput) region – which revealed that over 90 per cent families in rural areas of Orissa are desperate for wage employment. This amounts to 39 lakh needy households.
The random survey in 100 villages of Orissa has revealed that all the govt claims are bogus and exist only in official records in order to siphon off NREGS funds. The survey conducted in Orissa's six poorest districts has uncovered that of Rs.733 crores, more than Rs.500 crores has been siphoned off and misappropriated by the government officials.
Contact: Prabhjot Sodhi, National Coordinator, GEF UNDP Small Grants Program
Centre for Environment Education (CEE), C-40; South Extension II; New Delhi 110049
(o) 00 91 11 26262878; 79 (f) 80. (m) 00 91 98118 11996. prabhjot.sodhi@ceeindia.org.

Integrated Plan of Action to Prevent Human Trafficking
Lok Sabha: The Ministry of Home Affairs, The Ministry of Women and Child Development, the National Human Rights Commission and National Commission for Women are working in collaboration to draft an Integrated Plan of Action to Prevent and Combat Human Trafficking with Special Focus on Children and Women.

The various steps being taken by the Government to combat trafficking are:-
(i) Immoral Trafficking (Prevention) Act is in the process of being amended to make it more stringent against traffickers. (ii) The Ministry of Home Affairs has set up a Nodal Cell to coordinate, matters relating to trafficking in human beings between the State Governments/ Union Territory Administrations (iii) The Bureau of Police Research and Development (BPR&D) has prepared a training manual on "Human Trafficking Handbook for Investigators" for use in the Police Training Institutes. (iv) BPR&D is organizing regional anti-trafficking workshops for sensitizing police personnel towards the safety and security of women. (v) The Ministry of Women & Child Development is also implementing a pilot project to combat trafficking of women and children.
This was stated in a written reply to a question in Lok Sabha by the Minister of State in the Ministry of Home Affairs, Shri Manikrao. H. Gavit.

Amendment of the Persons with Disability Act, 1995

Ministry of Social Justice & Empowerment of the Government of India is in the process of amending the Persons with Disability Act, 1995 to make it more effective in the present context. Stating this at a joint workshop of the Ministry and the World Bank, the Minister of Social Justice & Empowerment, Smt. Meira Kumar said that her Ministry is following a consultative process for this purpose where the stakeholders representing Disabled Peoples' Organizations, NGOs, experts of various disciplines and members of civil society are participating.
Increasingly, asymptomatic HIV is considered per se disability. It may be appropriate for the Indian HIV/AIDS civil society to explore the implications of Amendment of the Persons with Disability Act, 1995. Referring to the UN Convention on the rights of persons with disabilities, the Minister said that it has brought out a number of new concepts like alternative mode of communication, concept of accessibility of Information and Communication, Technologies including web access to PWDs and the concept of reasonable accommodation to enable them to be equal participants in all spheres of activities. These concepts would be considered in due course and necessary changes in legislations, rules, policies and programmes of the Government would be made, she said.

-------------------------------------------------------------------

Organic farming changes fortune of Rajasthan farmers
Rajasthan: Farmers in villages in Jhunjhunu district are not affected by the problems that have driven their counterparts in Andhra Pradesh and Maharastra's Vidharbha region to suicide, thanks to the steady incomes generated by organic farming. The Rajastani farmers use natural manure or vermicast -- which is made from the process of vermiculture -- instead of chemical fertilizers and pesticides. Murli Prasad Saini of Jamalpuria Organic Krishi farm talks of how his life changed after he adopted this method of farming seven years ago on his two-acre field. "Due to the use of chemical fertilizers, pesticides and urea, the soil in my field had become hard. The soil started turning barren, and its capacity to hold water decreased sharply. These side effects resulted in a drop in the quantity and quality of produce," he said. His investments now too are lower than before. "It has reduced drastically as we don't need to buy costly fertilizers and pesticides. And we prepare vermicast on our own from natural waste and cow dung with the help of earthworms which decompose them to vermicast," he said. "Now the soil's water retention capacity has increased, and our profits have increased one-and-a-half times," said a smiling Saini, who sells his vegetables, pulses and wheat in the local and Delhi markets. The concept of organic farming was introduced in this region by the M RMorarka-GDC Rural Research Foundation, which is propagating such farming in other parts of the country too. The NGO, which claims to be a leader in vermicast production worldwide, provides farmers organic manure. The NGO also helps farmers get their farms certified. But with the Foundation contemplating marketing plans with an eye on big corporates like Reliance and Bharti, things are expected to get better for the farmers. Contact: Kisan Mehta, , Save Bombay Committee and Prakruti, 102, Mausam, Plot 285, Sector 28, Vashi, Navi Mumbai 400705, India. www.savebombaycommittee.org Tel. Kisan Mehta: 9223448857, Priya Salvi: 9324027494.
-------------------------------------------------------------------

Forum for HIV+ women
A State-level forum for HIV positive women was set up by an NGO, Chiguru, at Venkatapalem village, Andhra Pradesh. Delegates from 23 districts, who met in the village, elected a seven-member executive body.

Telugu Network of People Living with AIDS, HIV (TNP+) started in Guntur in 2003 and was extended to all the 23 districts in the State. As many as 30,000 people affected by AIDS/HIV joined the network. 70 percent of them, women. As a result, a district-level Positive Women's Forum has been set up.

Swarna Vani (Krishna) was elected State chairperson of the forum. India Network of People Living with AIDS-HIV (INP+) women coordinator Asha, TNP+ president Ramesh and secretary Jadgeesh were present.

Data on HIV-infected children needed

Jaipur: The NGO- Faith requests information or data base on the situation of children affected by HIV so that they can help such children to get better education and shelter along with medical help. Contact: Ms.S. Singh, Faith (Registerd NGO), 2, Kailash Vihar, Rajawat farm New Sanganer Road, Jaipur- Mobile: 09829216875. E-mail: <alingan.faith@ gmail.com>.

International Non- Violence Day (pix)

In Australia a Gandhi Outreach programmes was arranged on 28th Oct 2007 at Sydney. Around 100 Children and their families attended the programmes. The programmes was compared, staged and managed by children between 8 and 14 years. They are now planning a book exhibition on Gandhi on a larger scale to commemorate Gandhiji's death anniversary on 30 Jan 2008. In Mumbai The PCGT, Bombay Sarvodaya held a rally of students at the International Peace Day Week celebrations, several activities to observe international peace day week were organised by the Kriti Team in New Delhi between 19h –24 September 2007. These included peace exhibits, theatre, puppetry, painting, music, dance and interactions with civil society organizations; film shows, on-the-spot painting and slogan writing on peace for children. Candle lighting marked the end of the Peace Day week. Participating organisations included: Sahmat, Lakshya, Ankur, Janbat, Wiscomp, Action India, Niranter, Zubaan, Tarshi, Viveka, ISD, HRLN, Abhudaya, Katha, Sruti, Sweccha: We for Change, Sangat, Jagori and others. Contact Kriti Team: space.kriti@gmail.com.

Conferences Held

Jaipur: A "Dissemination Workshop on HIV/AIDS Care and Prevention Programme for Rural and Tribal Youth in India", was organised in Jaipur by VIHAN - Society for Child Development and Education in Rajasthan in association with Oxfam India and European Commission. The workshop highlighted the needs of high-risk groups such as men who have sex with men (MSM). About 1.3 lakh of the 6.5 lakh people, reportedly practicing homosexuality in Rajasthan, constitute a high-risk group. It was noted that the targeted intervention was covering less than one per cent of homosexuals and eunuchs.

Bangalore: A Workshop to initiate action on improving the state of policing in Karnataka was organised by Commonwealth Human Rights Initiative and the Coalition of Karnataka NGOs for Better Policing on 29 September 2007. It included presentations on the Supreme Court Directives on Police Reform; CHRI; s first-hand account of policing in Karnataka; What's involved in improving our police? A discussion session facilitated by CHRI, The State Government's Response: Karnataka Police (Amendment) Bill 2007 and making the demand for better policing people-centric. Contact: South India Cell for Human Rights Education and Monitoring, Bangalore Ph: 080- 25804072-73 Mobile: 9449816942 Email: contact@sichrem.org, Web: www.sichrem.org.

Hyderabad:The Deccan Development Society (DDS), in association with Community Radio Forum, India with assistance from UNESCO, conducted a residential workshop on Operationalising Community Radio for NGOs working in Andhra Pradesh from October 11-13, 2007. The new policy allows community-based organizations with a track record of development work to apply for a FM radio license, with transmitter power of up to 100W, which could serve people residing within a 15-20 km radius. The Community Radio Forum-India (CRF-India), with modest support from UNESCO, is organizing a series of regional-level workshops for creating greater awareness and contribute to building the capacities of communities to set up radio stations that would be community-owned and managed, and run on a not-for-profit basis. The workshop focused on introducing Community Radio (CR) as a development tool to NGOs working in Andhra Pradesh to equip organisations with technical information as well as details of the application process for initiating the process of establishing CR stations in their region and including CR as a meaningful tool for social change in their area. Contact: Jayasri email: hyd2_ddsppvr1@sancharnet.com or General Narsamma at communitymediatrust@gmail.com Tel: 040-2776 4577 or 08451-282271.

Open Forum organized a National Advocacy Conference on Agriculture and Rural Development on October 6, in New Delhi for participants from grassroots organizations, NGOs, multilateral organizations, and private sector, media, academicians and Governments from South Asia. The primary aim of this conference was to organize focused group discussions with different stakeholders like farmers, traders of green agricultural inputs, government officials involved in promotion of agriculture, agricultural scientists, extension officers and NGO's who have revealed that multi-pronged initiatives at different levels would contribute towards enhancing greening of Indian agriculture. Contact: Vishwendra N. Thakur, Open Forum, connecting communities, New Delhi Tel. (011) 46010181 F. (011) 46010184. E-mail: vnthakur@openforum.in; forum@openforum.in New Delhi: The India Rural Business Summit was organized by Federation of Indian Chambers of Commerce & Industry (FICCI) in association with the Ministry of Commerce & Industry, on October 8-9, 2007, at FICCI Auditorium, New Delhi. This unique Business Summit, the first of its kind, was supported by the Ministries of Rural & Urban Development,Panchayati Raj, Small Scale Sector, Textiles, DONER, Food Processing, Ministry of Finance – Banking & Financial Resources and Planning Commission. The focus of the Summit was to harness the potential of the non-farm sector in India and explore new markets and business opportunities for promoting rural entrepreneurship. It also aimed at leveraging financial intermediation for promoting investment in rural enterprises, promotion of sustainable technologies amongst other issues. Contact: Santosh Nautiyal, Ananya Tel : Dir. (011)23318416, 23765321), 23738760-70 Extn. 483 & 330, Email: santosh_nautiyal@ficci.com, ananya@ficci.com Website (www.ficci.com) The United Nations Development programmes (UNDP) in partnership with SDC (Swiss Development Cooperation) organized a Media Workshop near Delhi, from Oct. 29-31 2007 to sensitise South and South East Asian journalists to the human impact of Climate Change. The aim of the Workshop was to create a pool of well informed reporters in selected Asian countries who would be able to report on the findings of this year's HDR when UNDP launches it at the end of November 2007 .Contact: darryldmonte@gmail.com or Surekha Subarwal, Regional Communications Adviser (South Asia) United Nations Development programmes, New Delhi (011)46532346 Direct, (011), 91- 9810153924 Mobile. Website: www.undp.org.in.

A seminar, Managing Microenterprises – Issues and Challenges was organized by SVKM's NMIMS University, Mumbai on November 27, 2007 supported by AICTE.The seminar took a critical look at the various business models which have evolved for providing small credits and other non-credit inputs at the grass root level, and discussed current issues facing microenterprises including the legal framework of operations, the procedure for sanction and disbursement of credit, issues such as interest rates and transaction costs, infrastructural and managerial problems, the impact of microenterprises on poverty alleviation and women's empowerment etc. Contact: Dr. Sangita Kamdar, Professor and Head- Economics, SVKM's NMIMS University. Mobile: 9223449181. Email: skamdar@nmims.edu.

CIVIC Bangalore and INHAF, organised a National Seminar on JNNURM in Bangalore, on Oct 26 and 27. The theme was" The Shape of Our Cities and Towns: Socially Inclusive & Economically Productive? "JNNURM's basic premise is that the growth and development of urban centres is constrained by the indifferent implementation of the 74 th Amendment and outmoded statutes. Its primary objectives include economic productivity, efficiency, equity and responsiveness. Resource persons with experience in NURM, the 74th Amendment and Decentralization issues, from both Government and civil society, reviewed policies and their translation into reality; case studies on specific cities that are covered by JNNURM and studies on impact on various sections of the public. Contact: Dr.R. Padmini [Trustee, CIVIC & G.C.member, INHAF] – 94484 52465 Email: padmini@grot.org.
A seminar on 'Alternate Livelihood Support for Conservation of Forests and Wildlife in Bodoland', was jointly organised in September by the Bodoland Territorial Council (BTC), the Forest Department and the Green Heart Nature Club in Kokrajhar. The BTC Deputy Chief said the success of the tourism initiatives in the Manas National Park had encouraged focus on alternative methods of livelihood support as part of its forest and wildlife conservation programme and tourism was one of the areas being stressed on. Residents of 169 forest villages participated in the seminar. Source: www.wildlifewatch.in. PSI Mumbai's Global IPC Training Workshop was held on Nov 19 – 24. Through its Global IPC Training Workshop, Communicating Without Borders (CWB), PSI Mumbai actively engaged and challenged interpersonal communicators (IPCs) in a 4-day, highly participatory and interactive workshop. CWB honed their field communication skills through fostering creativity and a sensitized approach when developing and implementing customized communication messages. The training also provided a learning platform for participating PSI countries to share field experiences, innovative strategies, lessons learned and best practices.

Empowering Grassroots Democracy
A course for activists and students of social movements was offered by Asha Ashram on Dec.14-20 at Asha Ashram, in U.P. The subjects included Right to information, Role of journalism-- Right to food and work; Dalit, Gender and human rights; Field Work; Agriculture, land and related issues in the context of Globalization; People's struggles and strategies for change-contact Arundhati Dhuru, M: 9415022772, arundhatidhuru@yahoo.co.uk.

-------------------------------------------------------------------

Consumers
Forum Makes United India Pay Mediclaim
The Consumer Disputes Redressal Forum, Ahmedabad (Rural), has partly allowed a complaint filed jointly by Consumer Education and Research Society (CERS), Ahmedabad, and Mrs. Reshma Trivedi, holding United India Insurance Company Ltd. liable for negligence and deficiency in service. The Forum has ordered the company to pay Reshma Rs. 30,000 towards her mediclaim policy with 9 per cent compound interest from the date of complaint till realisation and Rs.5,000 towards cost.
The National Commission had stated that "Only on the basis of assumptions and experience of a doctor, who had not seen, examined or treated the patient, the insurance company stands no authority to reject a claim". CERS contended that it was the responsibility of the insurance company to prove that in Reshma's case hernia was a pre-existing disease and that the occurrence of hernia had in no way any relation with her hysterectomy and Caesarean operations. Contact: Consumer Education and Research Society, Ahmedabad Tel. (079) 7489945-46, 30121001-2-3 Fax: (079) 27489947 Email: cerc@cercindia.org.

Facebook for the jobless

Babajob, an Indian start-up aiming to bring the Facebook/MySpacerevolution to the world's poor, is just one example of an unanticipated by product of the outsourcing boom. Babajobs is a quintessential example of how Indian back offices have spawned poverty-inspired innovation.

The best-known networking sites connect the computer-savvy elite to one another. Babajob, by contrast, connects the Indian elite to the poor at their doorsteps, people who need jobs but lack the connections to find them. Job seekers advertise skills, employers advertise jobs and matches are made through "friend-of-a- friend" networks.

The founder of babajob.com, Blagsvedt, 31, joined Microsoft in Redmond in 1999. Three years ago, he was sent to India to help build the local office of Microsoft Research, the company's in-house institute.

To deal with the connectivity problem, Babajob pays anyone, from charities to Internet cafe owners, to find job seekers and register them. (Babajob earns its keep from employers' advertisements, diverting a portion of that to those who sign up job seekers.) Also, instead of creating an anonymous job bazaar, Babajob replicates online the process by which Indians hire in real life: using chains of personal connections.

To recreate this dynamic online, Babajob pays people to be "connectors" between employer and employee. So far, more than 1,100 have registered on Babajob. The listings are a portrait of the floating underclass in India, --- chauffeurs, nannies, gardeners, guards and receptionists.

The Durbar Way of Being

Kolkata Durbar's members commit to donate eyes after death. To celebrate this Puja, 54 sex workers are going to will their corneas on 19th October.

Slum-dwellers run a health insurance fund

Pune: Dandekar bridge slum in Pune is unlike any other slum in the country. When someone here falls ill, the family just has to dial a 24-hour helpline, whose doctor advises them which government hospital the patient should consult. The family also receives money for treatment. When the rest of the country is going in circles seeking health insurance for the society's most vulnerable, these slum-dwellers are part of a health security fund to which each person contributes Rs.60 annually. The unique fund is run by the slum-dwellers themselves along with those living in 88 other slums in Pune. So far, 30,000 have joined the fund, which covers all Pune slums and some villages in two other districts of the state. Dandekar bridge slum in east Pune accounts for 8,000 members. The fund was started as an experiment four years ago by an NGO, Swayam Sikshan Prayog, and Uplift India Association. The NGO runs 13 offices in Pune slums while a committee comprising members settles claims.

A 30 bedded rural hospital with OPDs and primary care facilities including basic investigations in Snehalaya Campus was "We are advocating use of government hospitals," says Shailabh. The annual reimbursement limit is Rs 5,000. While diagnosis is through allopathy, ayurvedic and homoeopathy are allowed for treatment. In Osmanabad and Sholapur districts of Maharashtra, 30 villages each are experimenting with such funds. Each village has a security fund, explains actuary and consultant to the project, Frenchman Francois Xavier Hay, the managing director of Uplift and the guiding force behind the project. The working of the project is simple. In France, he adds, 90 percent insurance takes place through small mutual funds. No one goes for the expensive health insurance, says Hay, who also works for GTZ, a partner in the project. Another partner is French NGO Intel Aid, French Mutual MACIF, besides the International Labour Organisation. A total of 60 hospitals in the area have become a part of the network.
ANIMAL WELFARE
The India Rhino Vision 2020 programme, which aims to attain a population of 3,000 rhinos in the wild in Assam, is likely to begin by end of 2007. Under this programme, the rhino population will be distributed over seven protected areas by 2020. The programme would involve translocating rhinos from two source populations into at least three target protected areas. The Indian Rhino Vision 2020 project is being implemented by the Department of Environment and Forests of the Assam government and is being supported by a number of other organizations including WWF India and the International Rhino Foundation (IRF). (Also see PA Update Vol XIII, No. 2, April 2007).
Metal detectors at Kaziranga
The Guwahati based NGO Aaranyaak has decided to gift metal detectors to the Kaziranga National Park to help deal with the poaching problem. It is hoped that metal detectors will help forest guards locate guns and rifles hidden in the park by poachers. 17 rhinos have already been poached this year, 10 of which were shot inside the park. The NGO is looking for different models of metal detectors in various countries and the one best suited for the situation in Kaziranga will then be procured. This is being tried as a pilot project and if successful similar detectors will be made available in other PAs as well. Contact: Bibhab Talukdar, Aaranyaak, Guwahati Assam. Email: bibhab1@sancharnet.in.

Project to cover open wells in Gir
A Memorandum of Understanding (MoU) was signed, in September, between the Rajkot based Wild Life Conservation Trust (WLCT) and the Gujarat Forest Department to construct parapet walls around open wells in and around the forests of Gir. There are nearly 9000 such wells in 158 villages in this landscape where nearly 50 lions are reported to have fallen into them in the last six years. At least 24 of these big cats eventually died. Already 700 of these wells have been covered by the Forest Department The expenditure per well is Rs. 10,000. The WLCT, along with the Reliance Rural Development Trust (RRDT) and Ambuja Cement would also construct parapets on 2,000 wells. Other corporates who are interested in supporting this project include the Tatas and Shell.
The Forest Department has prepared two plans for the implementation of the project. The first is where the government would monitor the process of parapet construction and would give a total of Rs 4,000 per well and the remaining would have to be financed by the NGOs and corporates. In the second model, the NGO would give the money to Lion Conservation Society formed by the state government and the government would take up the construction on behalf of these NGOs or the corporates. Contact: Bharat Pathak, CF (Wildlife) Junagadh, Gujarat. Tel: 0285 - 631678/ 630051. Fax: 631211. Email: cfwildlife_ad1@sancharnet.in.

Wildlife research institute for Karnataka

The Central Government has sanctioned Rs. Two crores for an animal husbandry and wildlife research institute to be set up in Kodagu in Karnataka. The institution will be the first of its kind in the country. It will come up on 74 acres of land in Chikkaaluvaara village of Somwarpet taluk in about a year's time and will be governed and monitored by the Karnataka Animal Husbandry and Fisheries University, Bidar.

Our food, our farmers
New Delhi: The Association for India's Development (AID) celebrated Gandhi Jayanti (2 October) this year with an "Our Food, Our Farmers" global vigil organised at 18 locations across India and 39 locations in the United States. More than 3000 individuals participated in this vigil across the two countries, with one message for the Indian farmer, "We are with you."
The vigil was intended to highlight the agrarian crisis in India, extend support for the farmer community and demand genuinely pro-farmer policies from the government. The demands, circulated in the form of a petition, included strengthening the minimum support price system to cover the real cost of production, waiver of debt and proactive support to low input sustainable agriculture especially in rainfed areas.
Marches, rallies and candlelight vigils marked the day. In New Delhi, two days of street plays were followed by a photo exhibition on 2 October. About 40 organisations participated in the vigil at Hyderabad. In the US, about 1000 people participated in candlelight vigils held in locations such as Seattle, San Diego, Bay Area, New York and Washington DC, as well as university campuses such as Cornell, Univ. of Texas, Univ. of MD, West Virginia University and so on. Caption: Gandhi Jayanti: AID rally in support of farmers at Chandigarh, Pic: AID A street play at Delhi, Pic: AID.

Trade unions want workplace policies on HIV/AIDS
Recognising that HIV/AIDS has become a serious threat to the world, India's central trade unions have come out with a joint statement of commitment asking workers and their representatives to set up workplace policies on the infection in collaboration with employers. They said internal committees on HIV/AIDS would be set up at the central and state levels to review and monitor the implementation of these policies and programmes.

"We encourage workers and their representatives to consult and collaborate with their employers on the development and implementation of an appropriate policy for their workplace, designed to prevent the spread of the infection and protect all workers from discrimination related to HIV/AIDS," --Gurudas Das Gupta, general secretary of the All India Trade Union Congress, Girish Awasthi, president of the Bharatiya Mazdoor Sangh, MK Pandhe, president of the Centre of Indian Trade Unions, Umraomal Purohit, general secretary of the Hind Mazdoor Sabha and Dr G Sanjeeva Reddy, president of the Indian National Trade Union Congress, said. They asked all "affiliates and member comrades to give the issue a priority and act upon its prevention and care of infected and affected". The trade unions said that there should be no discrimination or stigmatisation of employees on the basis of real orperceived HIV status, and screening for HIV/AIDS should not be required of job applicants or persons in employment. Testing for HIV should not be carried out at the work place except as specified in the "ILO (International Labour Organisation) Code of Practice on HIV/AIDS and the World of Work". Access to personal data relating to a worker's HIV status should be bound by the rules of confidentiality consistent with the existing ILO code of practice, the statement said recognising HIV/AIDS as a workplace issue.

Top